Key West Electric Car Rentals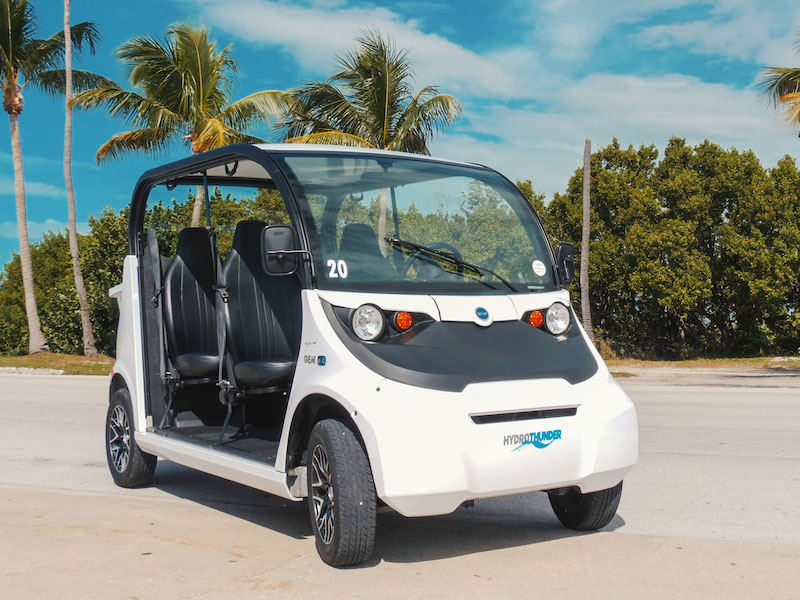 FOUR SEATER ELECTRIC CAR RENTAL
Starting $90/3 hours
Gem 4 Passenger Electric Car
Each additional day - $100
SIX PASSENGER 
ELECTRIC CAR RENTAL
Starting $170/3 hours
Gem 6 Passenger Electric Car
Each additional day - $135
Must be at least 22 years old to rent a car.
Valid drivers license and credit card required to rent.
Driver must not have consumed alcohol before renting or during rental time.
Driving range for electric cars: up to 20 miles
Eco cars require to be plugged in overnight for 24 hr rentals. Check with your hotel to make sure they allow eco cars to be charged. If not, ask for one of our gas powered golf carts.
*Please allow 1 hour for online bookings to be processed.
**Cancellation Policy - Contact HydroThunder up to 24 hours before reservation time to receive a full refund.
ELECTRIC CARS
HydroThunder is your source for a Key West electric car rental. Our eco-cars are fun, open-air rides that seat up to six passengers. Experience the fresh air and feel the wind in your hair as you tour this island city and learn about all its joys and treasures.
You will love tooling around in our little electric cars and enjoy the freedom of having no doors as you explore Key West with your family and friends. Our four and six passenger eco-cars have a convenient compartment to store your souvenirs, backpacks, and purses as you visit all the great attractions this island has to offer.